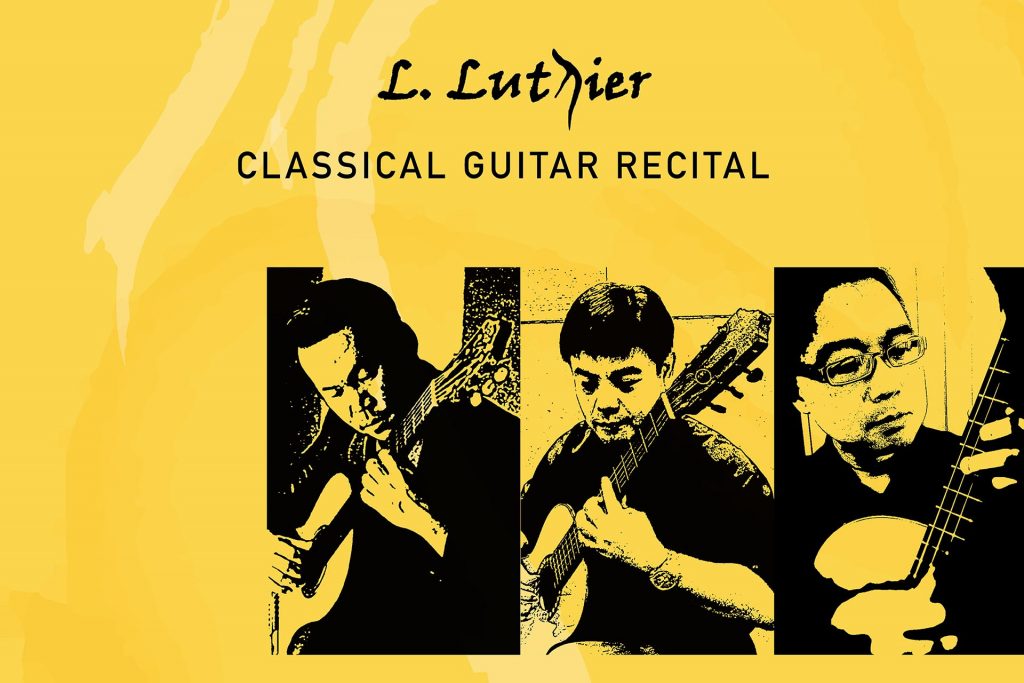 A classical guitar recital featuring 3 Malaysian veteran Classical Guitarists – Fung Tong Sen, See Sew Hong and YS Tang.
Fung Tong Sen completed his Final Recital of Associate Of Seimpi Music Akademi (ASMA) in 1998 with a public concert in British Council Kuala Lumpur. Mr Simon Dinnigan from the Birmingham Conservatoire of Music (UK) gave him excellent reviews.
Founding member and former President of The Classical Music Society Selangor & Kuala Lumpur, has been actively organized, performed and conducted Masterclasses and Workshops. Tong Sen holds the Associate of
Trinity College of Music London and Diploma Of The Associated Board Of The Royal Schools of Music in Guitar Performing with distinction. Therefore In 2002, Tong Sen was invited by the Associated Board of the Royal Schools of Music to perform during its first ever Diploma Awards Ceremony in Malaysia. He has performed with Dr Nathan Fischer in '6 th Malaysian Composers Concert Series', presented a World Premiere work by Australian composer Michael Smetanin, entitled 'Music for Bronze, Wood and Strings', conducted by Max Riefer with composer in attendance. He always carry a vision and advocate collaboration of different musician to nurture and provide a platform and music education for young musician, this become his passion and driving force in his past 23 years of teaching. He is also a part time lecturer and examiner at University Technology MARA, Faculty of Music since 2007.
Fung Tong Sen
---
See Sew Hong was the secretary for Classical Guitar Society. (Sel/FT) Malaysia between 2008 – 2012. He was a part time lecturer at the UITM Faculty of Music, Selangor, and also a very dedicated music educator in various music schools in the Klang valley.
See has performed solos, duos, trios and quartets with a renowned Guitar ensemble in South East Asia and Europe, including the Ordu International Guitar Festival, Turkey, the Bangkok International Guitar Festival 2009 & 2010, the Silpakorn International Guitar Festival, Thailand, the Danang International Concert, Vietnam and many more. Besides being a seasoned performer, See also conduct masterclass in the Hong Kong International Guitar Camp.
See Sew Hong
---
YS Tang started learning the classical guitar at the age of 16. He enrolled
in the Music Department of Malaysian Institute of Arts (MIA) majored in the classical guitar under the­­ tutelage of Ms. Margaret Ng. Without completing his studies from MIA, Tang furthered his studies at Del Mar College and Texas A&M University Corpus Christi with scholarship, under the guidance of
professor Philip Hii and Dr. Wann-Dar Tan. Subsequently, Tang completed his master's degree in music performance with scholarship at Texas Tech University School of Music where he was also awarded teaching assistantship to Dr. James Bogle.
YS Tang
---